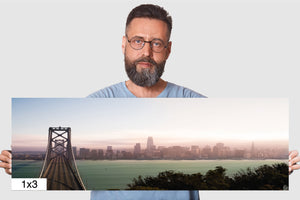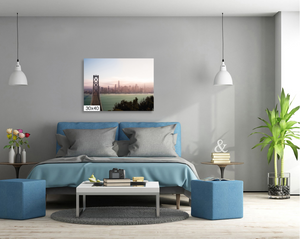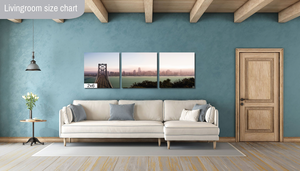 Bay Bridge Skyline
San Francisco was so much fun!

This next shot involved some seriously inventive problem-solving. Also WHY ARE THERE NO CARS ON THE BAY BRIDGE ?! (There were many hundreds, they just disappear under extreme long exposures)

This was shot from Yerba Beuna, which is a tiny island in the San Francisco Bay.

The highway that takes one past this point was a winding narrow canyon road, with blind corners and nowhere to park or pull off the road.

I was on the hunt, when I saw this view out my window. I knew I had to make it happen. I drove all the way through the winding canyon road, with steep rock going up to my right and a sharp drop hundreds of feet into the ocean on my immediate left.

I drove up and down this stretch of road a few times to no avail, finding nowhere in the slightest bit safe to park. After trying several alternatives, I found a tiny drive way that could just fit the car I was renting, with large red DO NOT PARK. GOVERNMENT PROPERTY, WILL BE TOWED IMMEDIATELY.

I saw no alternative, and going home without this shot was simply not an option. I looked around me to see if anyone official was around, and seeing no one around except speeding cars flying past way too fast, I took the chance.

I jumped out of the car and started running. I had 30-40 lbs of camera gear on my back (or at least it felt like it) but I managed to keep a good speed up.

The first car that flew past me on this tiny winding narrow road, missing me by only a few feet screamed out his window "YOU'RE AN IDIOT!!"

I'd never been more aware of the truth of his statement.

Production and Shipping Time:

Glossy Photo Paper: 5 days for printing, 5 days for shipping.

Ready-to-Hang Canvas: 5 days for printing, 5 days for shipping.

SHIPPING DETAILS

There are 5 ways to print these images.
1) Premium Glossy Photo Paper are high quality, professional paper-prints.
Sharp, Vivid and rich Color sets this apart from a casual photo print.
You'll feel like you're there.
Premium Glossy Photo Paper will last a long time.
This option is available in 8x10 inches, 11x14 inches or 16x20 inches.
They are designed to be placed in a glass frame, which can be purchased separately (starting at a few dollars at your local Target or online).

2) Ready to Hang Canvas are ready to hang right out of the box with zero assembly required. Ultimate convenience.
Gorgeous finished look. It comes out of the shipping box finished and ready to hang with a simple nail in the wall.
Canvas Prints are a well-known, high-end way of displaying photographs.
1.5 inch thick wooden stretcher-bars that give it shape, in the same way an oil painting is traditionally assembled. There are no staples or ugly lines visible on the sides (very important).
Estimated delivery time for printing, assembling, packing and shipping is around 10 days.

3) Ready to Hang Canvas (split into 3 panels)

This is for larger pieces, and the photograph is split into 3 even panels, 3 separate canvas panels which put together make a single large image.
This gives a modern look, and allows spectacularly large sizes on your wall!



4) Aluminum Metal Prints

Create elegant wall decor that shines with high-end, exclusive and unique aluminum metal prints.

Create a polished addition to any home or office. 3/64" thick aluminum panel. Features a glossy coating and rounded edges.

UV resistant ink prevents fading. All metal sizes are ready to hang on your wall, right out of the box.

5) Acrylic Prints

Create eye-catching home decor with modern acrylic prints. Light refracts through the museum-quality acrylic bringing vibrancy and depth to your photos. The .22" thick clear acrylic produces superb image quality from edge to edge and absolutely stunning, brilliant color!

UV resistant ink prevents fading. All metal sizes are ready to hang on your wall, right out of the box